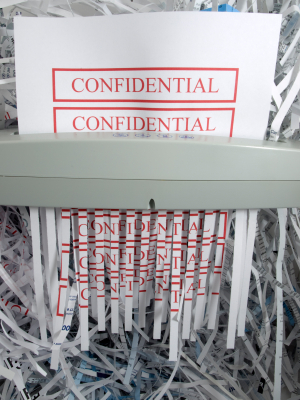 If you have been using self storage for confidential documents and archives, there may well come a point when you no longer need them. What do you do then?
Free up that storage space!
As you will see in our earlier blog "How long do I need to store my records?", both individuals and businesses need to keep records for five or six years for tax purposes, and some records have to be kept even longer. But what do you do when their time is up? There is no point hanging on to them, and paying for storage for something you no longer require. Time to say goodbye… but how?
You can't just dump them at your local recycling centre: tax records contain too much personal information, and may well also contain confidential knowledge about your clients. There's nothing else for it: old records need to be destroyed!
Identity theft
Much talked about, much overhyped in our "Age of Anxiety", notably by the insurance industry ‒ nonetheless identity theft is still out there. CIFAS (Credit Industry Fraud Avoidance System), the UK's Fraud Prevention Service, records an average 75,000–80,000 cases a year of identity theft, costing the nation at least £1 billion ‒ and this figure seems to be increasing by between10 and 20% year on year.
A part of this can be blamed on the casual way in which some people and businesses treat their waste. Bags and boxes put out for municipal recycling, along with the dustbins, have been known to contain not only names, addresses and telephone numbers, but photographs, signatures, bank statements, utility bills, copies of birth certificates and passports, even passwords and pincodes.
Personal shredders
Any documents containing sensitive information (defined by some as just your name and address) should be shredded before it is binned. Small-scale, electrically driven "personal shredders" can be bought for under £50. These are fine for household uses, or home offices.
But personal shredders have their limitations. They tend to shred documents to ¼ -inch (6.3mm) wide strips, or wider, which can conceivably be pieced together. Also they have small motors, which can handle only perhaps 7‒10 sheets at time, and for only 7 or so "passes" (the times that you put your batches of 7‒10 sheets through), before they overheat and cut out ‒ or burn out.
If you have been putting archives in self storage, you are going to need something rather more robust than a personal shredder.
Level 6: Top Secret
The shredding industry uses a Shred Size Scale, sometimes called the "International Shred Size Scale", although in practice the definitions vary across regions. Essentially, shred size equates with security: the smaller the shredded pieces that come out of the machine, the greater the security.
Level 1: 12mm strips: Very low security
Level 2:  6mm strips: Low security
Level 3:  2mm strips, cross-cut: Confidential
Level 4:  2 x 15mm particles: Commercially sensitive
Level 5: 0.8 x 12mm particles: Top Secret or Classified
Level 6: 0.8 x 4mm particles: Ultra-Top Secret or Classified
A number of techniques are used to achieve these effects:
Strip-cut shredders, use rotating knives. Cross-cut shredders use two contra-rotating drums to produce small diamond shapes or "confetti". Particle-cut shredders make tiny square or circular pieces. And disintegrators, hammermills and grinders all reduce waste to ever smaller particles. Level 6 particles are essentially minuscule granules.
Suppliers of shredders are increasingly finding that businesses ‒ and even individuals for home use ‒ are purchasing Level 3 or 4 shredders, made by companies like Fellowes, Destroyit and Martin Yale/Intimus, and selling for anything from £300 to upwards of £4,500. The more you pay, the faster you can destroy, and the smaller the shreds.
Call in the professionals
Many of the larger machines still can only handle between 10 and 40 sheets at a time, so it can take quite a while to feed in a single archive box filled with redundant records.
It may be best to call in one of the professional shredding companies, who use machines capable of annihilating whole boxes of archives ‒ and more ‒ at a time. You can find them by Googling something like "secure shredding services", or consulting the website of the BSIA (British Security Industry Association):
You can choose and tailor their services according to your needs. Some people will only need straightforward offsite document destruction; others may require guarantees that their records have been securely destroyed, confirmed by certification, or even specialist companies with high-security facilities, and correspondingly secure staff-employment policies.
Shred-fest
You can see what happens to boxed paper in an industrial-scale shredder on the website of SSI, US manufacturers of serious industrial shredders:
www.ssiworld.com/watch/paper-boxes.htm
Many people believe that shredding also delivers some kind of psychological satisfaction, like spring cleaning. Indeed, there are people who become "compulsive shredders", who enter an intimate relationship (not physical, one hopes) with their shredding machine, which they come to see as the indispensable guardian of their privacy, and their secrets.
If you harbour any similar passions, or take pleasure in the spectre of destruction, you might also like to explore that same SSI website ("Watch It Shred"), which has video clips of an astonishing range of items going through the shredder: not just boxes of documents but whole filing cabinets, lawnmowers, pianos, bowling balls. Take your pick!
www.ssiworld.com/watch/watch-en.htm
This is, after all, the company that claims "We can even shred torpedoes". It makes for strangely compulsive viewing (if hooked, you can even sign up to "Shred of the Month"). And anyone who is fed up with their lightweight, underperforming personal or office shredder might enjoy the sight of a shredder being shredded:
www.ssiworld.com/watch/shredder.htm
7 Responses to "Shredding documents"