Freedom of Information Blog: Government Spending £5.4 Million on Storage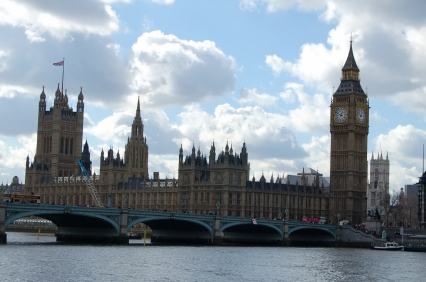 To investigate how much money the government spends on hiring storage space, Storage.co.uk has submitted a series of Freedom of Information requests to London councils and government departments.
The results may surprise some people: over £5.4 million was spent by them in total last year, procuring space in both self storage centres and warehouses that are specifically designed for archive storage.
Whilst it's obvious that no one yet works in the paperless office we've been promised for generations, this figure could appear to be an excessive amount of taxpayers' money to divert away from frontline public services. With this in mind we've explored the figures below, celebrating the best and exposing the worst in how the public sector makes space for itself.
What do councils do about storage?
All 32 London borough councils, as well as the City of London, where asked the question 'how much did you spend on commercially hiring storage space in the last financial year?' The results which came back varied hugely.
Newham Council was the biggest spender of the lot, investing an impressive £203,617.39 in record storage. This compares to Bromley Council at the other end of the scale, who only paid £4,290.72 during the same period. Three Councils – Bexley, Kensington and Chelsea and Westminster – claimed not to have spent anything on storage space, although this may have more to do with a flexible definition of what qualifies as hiring storage space being used by their mandarins.
The average for the 33 Councils as a whole was £64,634.13 –a fairly reasonable sum, but one which conceals the variations mentioned above in what councils pay for storage space. Indeed, the difference between Newham and Bromley does beg the question that, assuming they are of similar size of structure, why should the different councils pay such inconsistent amounts for storage?
Among this list, most of the really big-spenders on storage space did so through corporate contracts with professional archiving companies:
–  All Newham's £203,617.39 goes to one such company, Crown Records Management
– Not far behind is Hackney, who paid TNT services £155,235.57 last year
– Similarly, Southwark's account with Archival Records Management swallowed up £141,011 of their budget
– Sargent's Record Management made £120,723.49 out of their dealings with Tower Hamlets Council
– And finally, Iron Mountain, a worldwide leader in record archiving, did nearly the best of the lot. It made £92,762.40 from Croydon Council during the year, and a further £54,670.51 from The London Borough of Havering.
Interestingly, self storage firms were not widely used by councils. Barking and Dagenham, for example, spent £9,600 renting units at both Big Yellow and Access, but few other councils followed suit.
This is probably because they offer less of a service than professional archiving firms do. Archiving firms will normally collect, catalogue, store and digitally upload a client's documents, in addition to destroying them (normally just when they've been asked to!). By contrast, traditional self storage entails far more legwork for the users, who have to bring everything to a unit and organize it themselves.
Understanding demography does help us make sense of the figures; if Newham, Hackney, Southwark and Tower Hamlets have anything in common, it's that they are all similarly crowded, relatively poor inner-city boroughs with quite high unemployment. Therefore, it could simply be that, as poorer boroughs have more residents relying on council services, the councils end up with more records that need storage space.
On the other hand, population alone can't account for all the disparities between what different councils spend on storage. After all, Croydon has the largest population of any London borough, yet it is only the eighth highest spender when it comes to hiring storage space. If it was purely a question of population, then they would be first, something which suggests the councils in front of them pay too much for storage space.
Alarmingly, three councils – Brent, Harrow and Lambeth – had failed to provide a response to the question after nearly 50 working days. Given that the statutory limit for replies is meant to be 20 working days, this suggests a worrying culture of secrecy in government which the subsequent research into departments fully supported.
The Department of Storage
The same question was also put to 11 large government departments, from which it was ascertained that 7 of them spent £3.5 million on storage space last year altogether.
Work and Pensions was the biggest spender, as they allocated £1,575,003 for archiving to Capita Business Services. To be fair to them this is the biggest department, and they have millions of pensioners' and benefit claimants' records to look after, but it does make Communities and Local Government, a much smaller department, seem rather profligate for spending £1.3 million on storage.
Children, Schools and Families, the successor to the Department for Education, and so one of the most important departments, found they required less than half of that to cover their storage needs, again suggesting a worrying lack of budgetary restraint amongst the parts of government which spent more. Indeed, the Health Department claims not to spend anything on external storage space, despite the NHS being the world's third largest employer (although this may again be due to some creative interpretations of what counts as rented storage space and what doesn't).
The most disappointing result of all from the departments, however, is that the Foreign Office, Home Office, Ministry of Defence and DEFRA have all still failed to reply after nearly 50 working days.
Do taxpayers get value for money from government storage spending?
Unfortunately, it's possible to look at this research and feel that waste and inefficiency have crept in to how the government procures record storage. The huge variations between different councils and departments can't simply be explained by their sizes; it seems that the people in charge of some of them haven't gone far enough to ensure that taxpayers get value for money from government storage.
Even more worrying is the lack of replies from certain councils and departments. It should concern people for two reasons: firstly, it suggests a desire to keep embarrassing facts secret and disobey the spirit of FOI legislation, and secondly, how much can these ones be paying for their storage if it's worth breaking the law to conceal it?