AskActive: a major player in self storage installation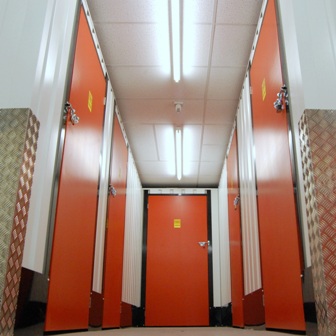 Richard Allen, Sales and Marketing Manager of Active Supply and Design, explains how AskActive has reached its prominent position in self storage builds and fit-outs, in the UK and across Europe.
As the longest established self storage construction contractor in the UK, Active Supply and Design have been in operation since 1991, having started with the help of a grant from The Prince's Trust and a small business loan.
The company initially worked mainly in the shelving, racking and mezzanine floor sectors where the best utilisation of space is a prime factor for success. The team at AskActive head office consists of sales, design and admin staff, all of whom have been with the company for some considerable time. Their wealth of knowledge and experience combines to ensure a successful build time and again, and has fuelled our expansion of self storage facilities throughout Europe.
The importance of design
The success of a self storage facility is largely dependant on the correct self storage design and effective self storage installation. Building regulations stipulate many rules which must be taken into account at the design stage, including escape distances, width of corridors and fire protection – to name a few. By choosing the right construction partner at the outset, many of these obstacles can be overcome with little or no extra financial impact.
The correct choice of self storage construction partner is also paramount in ensuring that maximum revenues are obtained from your building. This can only be achieved by the best utilisation of available space and appropriate unit layout.
Active Supply and Design consistently achieve the above – and much more – for their clients, resulting in an increasing amount of repeat business from industry leaders.
The team at AskActive are able to offer informed help and guidance, should it be required, and have an in-depth knowledge of how self storage facilities operate once up and running. This puts Active in a unique position, and makes them an obvious candidate for anyone considering entering the European self storage industry or expanding their current facility.
Active in Europe
Active Supply and Design's expertise in self storage installation throughout Europe has resulted in a diverse client base, ranging from small independent operators to some of the largest providers of self storage in Europe. Active Supply and Design currently have installation teams in France, Germany, Sweden, Finland, Spain and Ireland, amongst others.
Self storage in Europe is expanding rapidly, with France, Germany and Scandinavia demonstrating the fastest growth rates as demand for the product increases with the increasing public awareness of the offering.
One company fits all
Active have the widest of product ranges. All self storage products supplied by Active are manufactured in the UK to the most stringent of standards, with walling, partitions, doors and mezzanine flooring all made to order in a variety of colours to suit the clients' corporate image. Active insist on high quality for their self storage products to ensure many years of trouble-free use. Zero maintenance requirements are standard.
Self storage design and construction are an important part of this exciting growth industry and are key to a successful business model. Active Supply and Design pride themselves on being able to produce the most efficient, cost-effective solutions combined with the highest service levels.
Please visit the askactive.com website for further information and an insight as to what Active offer, as well as testimonials from clients.