New horror film "Storage 24" to be set inside self storage facility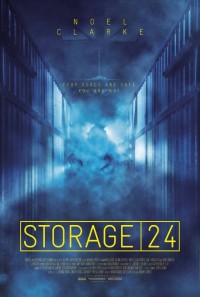 For some reason, the self storage industry never comes off well in the movies.
Self storage facilities always seem to be depicted as illicit dens where shady things happen, patronised exclusively by a cast of criminals, weirdos and others who have something to hide.
Track record
Regardless of where the film comes from, the treatment stays remarkably similar. Australia has already given us Michael Craft's gory Storage (see our blog/review), about a series of murders which occur within a grimy, rat-infested self storage facility – hardly a model of the industry.
Hollywood has played the same trick too, on more than one occasion: the 2003 biographical drama Monster, about the life of serial killer Aileen Wuornos, showed her living inside a self storage unit, while an episode from one of the early seasons of CSI: Crime Scene Investigation featured a case in which the team pull back the shutters of a storage unit to find a makeshift operating theatre being used for illegal sex-change procedures, complete with a decomposing corpse upon the table.
Storage 24
Now British cinema is getting in on the act, with the release of the upcoming Storage 24 on  June 29. The production company Independent Films provides the following synopsis:
London is in chaos. A military cargo plane has crashed leaving its highly classified contents strewn across the city. Completely unaware London is in lockdown, Charlie (Noel Clarke) and Shelley (Antonia Campbell-Hughes), accompanied by best friends Mark (Colin O'Donoghue) and Nikki (Laura Haddock) are at Storage 24 dividing up their possessions after a recent break-up.
Suddenly, the power goes off. Trapped in a dark maze of endless corridors, a mystery predator is hunting them one by one. In a place designed to keep things in, how do you get out?
Written by, and starring, successful young British writer/director/actor Noel Clarke (best known for his two-series stint in Doctor Who, and his lead role in the film Kidulthood), this film would appear – predictably enough – to continue the trend of films that show self storage in a negative light.
This is not necessarily a bad thing – if you take the view that there's no such thing as bad publicity. At least it demonstrates that the filmmakers think those who pay to see it will be familiar enough with self storage to understand what's going on.
Yet the one-dimensional view of self storage offered by the film industry is rather disappointing. Self storage says a lot about the way we consume things in the modern age, so why isn't it treated more seriously? Self storage facilities could make the perfect backdrop for thoughtful dramas which analyse the way we now tend to equate our possessions with success in life, or perhaps comedies about how shared ownership has become central to so many modern relationships.
Even Alfred Hitchcock, were he alive today, could probably have done something much more dramatic and exciting with the concept of self storage, without resorting to bucket-loads of gore.
Although from the synopsis it looks as though Storage 24 will conform to type, it would be wrong to prejudge it. We look forward to seeing it, and to discussing it in these pages. Meanwhile we would also welcome a more thoughtful kind of film about self storage that breaks the mould.