Using Self Storage for Home Renovations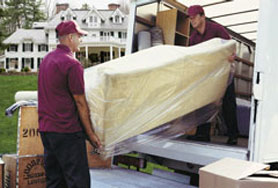 The USA is the home of self storage (or "mini storage"), with an industry many times the size of the UK's. On the basis of that experience, here's some good advice on using self storage during home renovations, supplied by Westy Self Storage, which has 17 storage locations spanning Connecticut, New York and New Jersey. 
Renovating one's home can be an exciting time, with each wall becoming a canvas for your imagination and every floor a platform for your home ideas. The only problem with home renovations is that they tend to intrude on your daily routine, often rendering entire sections of the home unusable. In the more extreme examples of home renovation, sometimes the entire home becomes uninhabitable, forcing you to choose a temporary new dwelling for the duration of the process.
However, as you begin to plan your life around the renovations, it is crucial not to forget the other things that share the home space – your valuable possessions. Renovations can be complicated and even dangerous for one's possessions, with paint, wood and glass being thrown around in great abundance. As such, it is crucial to care for them while renovations are ongoing, to ensure that your house's brand new look doesn't come at the price of having to buy all brand new things. Fortunately, this problem can be easily remedied by taking advantage of one of the many mini storage buildings located across the country.
Self Storage First
Before taking a look at employing the use of a storage facility, you can begin by analyzing what you're able to store yourself, perhaps outside or in another room. Consider purchasing plastic moving containers or cardboard boxes to keep items together by category, which will make unpacking into the renovated home much easier.
Sometimes items can be easily moved to another room without causing a fuss – such as deciding to move the television into the bedroom for a few weeks, or by relocating the refrigerator into the garage – but other times this isn't quite as simple. A couch may not fit in any other part of a home, which might make it ideal for storing off-site in a mini storage facility.
Piece by Piece

When planning to renovate a room, go through it with a fine eye for detail to make sure that you move every piece of property out of the path of danger. For instance, remove pictures hanging on the wall, remove cables that might be lining the room, take down chandeliers, and even exposed lightbulbs – such as exist on track lighting setups. Put these aside and decide whether they should be stored in-house or in mini storage.
Big Solutions with Mini Storage
After one has exhausted all of the possibilities for storage within their home, it's time to look outside towards mini storage. Begin by researching all of the available options, since not all storage facilities were created equally. Many might cause a headache, drain the pocket, or leave you with a worrying feeling that your valuables are insecure. Additionally, certain items might need air conditioning, such as electronic eqipment or valuable art, and not all storage facilities provide such amenities. At the very least, one wants to be in comfort when visiting or retrieving one's stored stuff.
Also of note is the pricing of the storage company. Ensure that the storage facility you use has a guarantee that the prices of rent won't go up, so that you don't find yourself suddenly paying more once you've moved your belongings in. There are some storage facilities in NJ that allow you to lock in prices over a long period of time. In general, the best bet is to do research online and then visit the mini storage building before you show up with your belongings in a truck. If the facilities and staff are nice, then use your best judgment when analyzing against the price.
Moving on Up

If you're renovating your home, odds are you have enough to deal with without the need for renting a truck and making a day out of moving your stuff into storage. Therefore, it's worthwhile to look for a storage facility that also offers moving services – the two of which combined are a recipe for relaxation. But make sure to read the reviews about moving experiences beforehand, and to ask as many questions as you can. Ensure that the movers are certified and will be careful with your possessions.
And even if you want to save a few bucks and do the moving yourself, it can be worth it to look for a storage company that also offers truck rental services, which will reduce the amount of stops and time required for the move.
Ultimately, self storage can be a wise decision because it will free up space in your home, as well as space in your mind so that you can worry about overseeing the renovations, not your possessions. So if you're preparing for a home renovation sometime soon, begin planning now to ensure that your new home gets all the attention it deserves.
6 Responses to "Using Self Storage for Home Renovations"