Got some furniture you don't need in your self storage unit? Give ReStore Community Projects a call…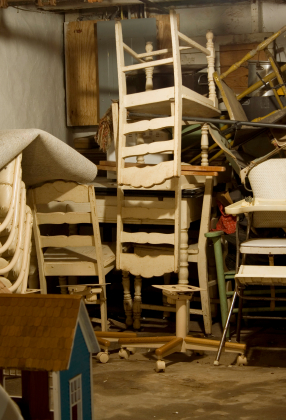 Lots of people who use self storage keep pieces of furniture in their units. Maybe they are the legacy of an old decorating project, or there are things that you couldn't find room for in your new house. They might be inherited, or just stuff that you can't find a use for anywhere else.
Furniture tends to get stuck in self storage units because it's naturally difficult to shift. Selling it can be fiddly and time-consuming, whilst many charity shops may not welcome larger items.
However, if you live in the London area, there is a charity dedicated to collecting and re-distributing used furniture and white goods to help people in disadvantaged communities. They make it surprisingly easy to help someone else out by giving away the big bits and pieces which you no longer need.
ReStore Community Projects
Originally founded in King's Cross in 1996, ReStore Community Projects is a charity with a very simple purpose. What they specialise in is getting their hands on furniture and domestic appliances which other people don't need any more. Once they have collected these items, they are then either sold to the general public – with the money this raises being invested in their charitable work – or they are re-distributed at a heavy discount to those who are severely in need.
ReStore Community Projects began as an organisation which helped homeless people who'd just been allocated housing to get their hands on the furniture and appliances that they needed. However, in the face of rising demand, the list of disadvantaged groups whom they now assist has grown to also include people living in social housing, benefit recipients, asylum seekers, ex-convicts, and victims of addiction, or mental health problems, or other disabilities.
For those of us who live in comfortable homes, it's hard to imagine what it's like to have to sleep on the floor because you can't afford a bed, or the limitations which are caused to your life by not having a washing machine or an oven. ReStore Community Projects does vital work to try and make vulnerable peoples' homes a bit more comfortable, so that they can lead their lives more easily.
What can I do?
If your home or your self storage unit contains items of furniture and domestic appliances which aren't being used, and which are really there only because you can't work out what to do with them, giving them to ReStore Community Projects can be a great way to finally get rid of the hassle they cause whilst also doing something good for charity.
In particular, they are looking for the following:
Fridges
Freezers
Electric cookers
Washing Machines
Three-piece suites
Settees
Sofa beds
Chests of drawers
Beds (base and mattress)
Chairs
Tables
Bookcases
Wall Units
Wardrobes
Obviously, anything you donate needs to be in good working order, as it is going to be used again by someone else. Make sure you check their website to find out the full set of regulations governing which items they can and can't accept, as well as their policies on making collections and getting stuff over to them:
http://www.restorecommunityprojects.org/index.php
All in all, ReStore Community Projects is a wonderful way to help other families if you're thinking of clearing out your self storage unit this Christmas.
7 Responses to "Got some furniture you don't need in your self storage unit? Give ReStore Community Projects a call…"