National Declutter Week 2012: Adopt a Hospice!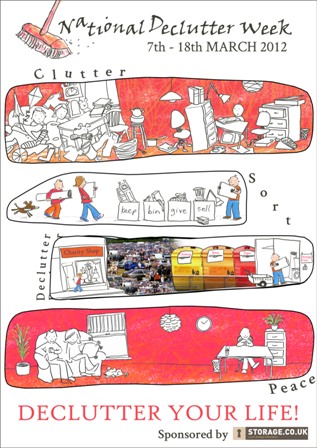 Storage.co.uk has recently had the pleasure of announcing that, after its successful launch in 2010, National Declutter Week will return – from 7 to 18 March 2012.
You've probably spotted that this is more than a week. This is because we wanted to give people two whole weekends to get on with sorting through their clutter.
At a time of year when many people are busy making New Year's resolutions (and may already be struggling not to break them), we hope this gives people a target date if they've resolved to finally get on top of their clutter. It's an uncomfortable fact that we all have a spare room, garden shed, attic or cellar that we keep meaning to clean out without ever getting round to it, but if you wait until National Declutter Week  (NDW) you can even combine it with helping a good cause.
This is because Storage.co.uk is linking up with hospices around the country, trying to create a virtuous circle (or rather, triangle) of giving.
Declutterers – Hospice Shops – Self Storage
When people have their National Declutter Week clear-out, we want them to take all the stuff they no longer need to their local hospice charity shop, where someone can find it a new home.
Hopefully, so many people will do this that the charity shops will run out of room for all their new stock, which is where self storage can come to the rescue. We want self storage firms to "adopt" their local hospice, lending them free space for a period during and after NDW while the charity shops get on with selling the items.
We hope to raise lots of extra money for hospices this year so they can continue their important work.
There are 220 hospices in the UK, and each year they help nearly 250,000 people suffering from terminal illnesses to reach the end their lives in a dignified and peaceful environment, making their last few days as pleasant as possible.
They can't do this work without the support of the general public, which is why many hospices run their own charity shops in order to raise funds.
Storage.co.uk hopes that we can give them a real boost if enough people organise a National Declutter Week clear-out, providing a great source of additional stock.
Self storage's great charitable record
Many self storage companies already have relationships with charities, lending them space so they can store things people have donated. This makes sense for both parties; the charities get free space, which would otherwise be expensive, while the storage firms can make use of surplus units and raise public awareness of their business.
Most towns have their own hospice, as well as at least one self storage centre, so we're encouraging them to "adopt" each other to take advantage of National Declutter Week.
If you would like information about your nearest self storage centre, or your local hospice charity shops, you can send us an email at listings@storage.co.uk.
National Declutter Week posters (see the picture above) are available on our website for download.
One Response to "National Declutter Week 2012: Adopt a Hospice!"