National Declutter Week is Back!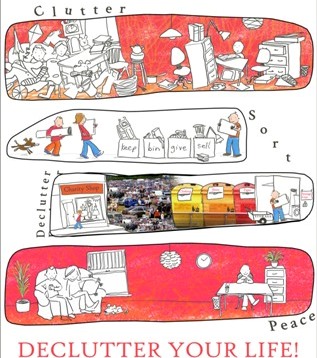 Storage.co.uk has just announced the dates for the National Declutter Week 2013: Saturday 6 April to Sunday 14 April.
All winter you've been meaning to do it. Clear out that clutter! What better time to get down to it than Spring – just after Easter, and during the last week of the Easter school holidays. Spring-cleaning and decluttering: clear your home, clear your mind, ready for the summer!
Bin the rubbish. Give the serviceable stuff to charity shops. But the things you think you might like to keep can go into your second home: a self storage unit somewhere near you.
Join the NDW campaign!
National Declutter Week has three main aims:
to promote the benefits of decluttering and a clutter-free life (to health and the sense of wellbeing ‒ as well as to property values);
to generate income for charities through donations of unwanted possessions to charity shops;
to bring new business to the storage industry (for those things you can't just get rid of, but don't want in the house).
So, National Declutter Week can potentially bring benefits to homes and business, to charities, and to the self storage industry.
Third time round
This is the third edition of National Declutter Week.
First time round was in October 2010. The next followed in March 2012. On that occasion Storage.co.uk created a virtuous circle by encouraging self storage companies to link up with hospices, and hospice charity shops.
A number of self storage companies took up the challenge and made arrangements with hospices: the public took their charity-shop donations to the self storage companies, who agreed to store the goods for the hospice shops.
Many self storage companies help charities out in this way, providing free storage space to store and sort donations.
This year Storage.co.uk is not promoting any one particular area of the charitable sector, in acknowledgement that there are many different kinds of charity that benefit from this special relationship with self storage companies.
Dates for the diary
Saturday 6 April to Sunday 14 April is National Declutter Week!
Write it in your diary, put it on the kitchen calendar. Get planning! Get focused!
For help, advice and encouragement about decluttering, see our dedicated decluttering pages – here.
One Response to "National Declutter Week is Back!"