Boat storage: the Boatel and dry stacks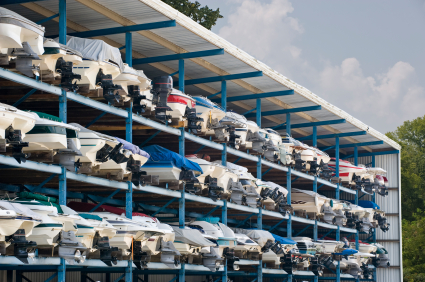 What do you do if you have hundreds of boat owners, but only very limited quay space?
At Lynnhaven Marine, Virginia Beach, they built a "Boatel". Basically it was vast warehouse with shelves on which the boats could be stacked, in the dry, one above the other, delicately placed in position by forklift trucks. These were largish motorboats or "sports boats", the objects of desire for many American families, used for cruising around the extensive network of bays near Virginia Beach – for fishing, waterskiing, picnicking, and generally enjoying the Great Outdoors.
The system worked like this: you, the boat-owner, decided you wanted to take your boat out for the afternoon. You rang Lynnhaven Marine and agreed a time slot. A forklift truck would head into the Boatel, delicately lift your boat off the shelf and deposit it in the water beside the quay, just in time for your arrival. Then it would put your boat back on its shelf when you were through.
This kept your boat dry and safe, sheltered from the occasional mighty storm that rips through this region – and freed up quay-space for other users.
But on 12 September 1999, the Lynnhaven Marine Boatel burnt down in a fire, which also destroyed 236 boats within it.
Rising like a phoenix
But this was too good an idea to abandon. A new Boatel has been built on the site – bigger and better. You can see it for yourself, and how it works, on YouTube.
Dry stack
Popular in the USA for some time now, this system of boat storage has now reached the UK, often under the name "dry stack".
MDL Marinas, for instance, has dry stack facilities at three of its centres on the south coast: at Poole Harbour, on the River Hamble and on the River Itchen (Southampton). Premier Marinas has installed a dry stack facility in Gosport, and is rolling out the system to its other marinas on the south coast. There is another in Cardiff, operated by Cardiff Dry Stack.
The "dry" refers to the fact that the boat is stored out of the water, rather than under cover – but some centres (such as Southampton Dry Stack, and Falmouth Dry Stack) offer stacking facilities that are indeed under cover.
These dry stack storage systems are suitable for RIBS and motorboats up to 10m, or even 13m. Unlimited launchings, seven days a week, are usually part of the deal.
Many advantages are claimed for dry-stacking, including:
Being out of the water protects hulls from saltwater exposure and fouling, so reduces maintenance costs, and the speed of depreciation in value.
Better security against theft and vandalism.
Economy when compared to quayside berths, and when reduced maintenance is factored in.
The cost of dry stack boat storage typically starts somewhere around £1500 to £2000 per year – comparable to higher-end self storage for the same kind of space.
4 Responses to "Boat storage: the Boatel and dry stacks"