Where does the Royal Family keep all its state gifts? In Royal self storage?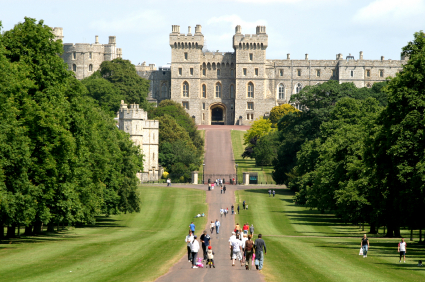 For their wedding on 29 April, Prince William and Kate Middleton have broken with the usual tradition by asking their guests to make donations to their chosen charities instead of giving them presents.
While this sounds very public-spirited, it's worth remembering that the Royal Family receives more than enough free gifts already. These are referred to as 'state gifts', because they mostly belong to the state rather than the individual Royal who actually receives them.
The tradition of giving state gifts is thought to have begun in 1520, when Henry VIII exchanged gifts with Francis I of France at the Field of the Cloth of Gold near Calais. Since then it has been customary for the Royal Family to receive a gift from every foreign country they visit, in return for giving one themselves.
This worked well in the days before modern transport, when the Royal Family could only visit other countries from time to time. However, now that they spend virtually all year jetting across the world, it raises the interesting question of what they do with all these gifts. Does the Royal Family keep any of them in self storage?
How many gifts does the Royal Family have to store?
During the whole of her reign the Queen is thought to have received more than 1,500 gifts, a sign of how much she's traveled around the world. However, this probably only includes the major gifts – large pieces that needed storage in a museum, art gallery or zoo – which have to be declared so the government is aware of them.
The true scale of gifting to the Royal Family was revealed in 2003, when Prince Charles was revealed to have received a total of 2,394 individual presents between 1999 and 2001, most of which he didn't have to declare because they were small items like watches and pens that he gave to staff; in any case, this suggests that he alone receives nearly 800 gifts a year.
While most of them were quite small, some would have been very large: paintings, furniture and decorative treasures, meaning they need a great deal of storage space. Given that many ordinary families find they have too much stuff for their homes and need self storage, it makes you wonder how a family which is constantly being presented with new possessions is able to cope.
What kind of gifts does the Royal Family have to store?
The Queen has been presented with all manner of gifts during her long reign, many of which were clearly great signs of devotion from loyal subjects, while a few were just tests of her politeness.
This started with her wedding in 1947 where, unlike her grandson, she chose to accept presents, which included a room full of antique furniture from Canada, and a wooden lodge from the people of Kenya (this remained in Kenya, removing the problem of having to find storage for it in one of her palaces; and was actually where she was staying when she heard of her father's death)
Some of the most interesting presents the Queen has received subsequently would have got her arrested had she tried to keep them in self storage units. This is because she's been presented with a number of live animals, including a jaguar and two sloths from Brazil, a canary from Germany, several horses from various countries, and an elephant called Jumbo from the Cameroon.
There have also been great artistic works, notably a giant brass and steel wine-bottle cooler in the shape of a grasshopper, gifted by France's President Pompidou in 1972, and 22 sketches given by Dali to the Duke of Edinburgh – items that are probably too valuable to keep in self storage units, at least without paying huge insurance premiums.
On the other hand, some of the items much more resemble the kind of junk an ordinary family would keep in self storage. America gave her a pair of cowboy boots in 1991, and she has also received lacrosse sticks, sunglasses and box of snail shells while on her travels.
Where does the Royal Family find storage for all these gifts?
Most of the valuable gifts of the type mentioned above have to go into specialist storage, with many items of cultural worth being loaned out to museums. This isn't limited to works of art, though, as shown by the Maori canoe – a gift from the people of New Zealand – that is kept on permanent display at the British Museum. Similarly, most of the animals given to the Queen have been looked after at London Zoo.
Then there is the Royal Collection, the House of Windsor's own museum, which looks after most of the valuable items which aren't loaned out to other museums. Having been going since the Restoration in 1660, it has amassed world-leading collections of art, jewelry, furniture and other treasures, including possibly the world's largest collection of stamps, many of which originated as state gifts.
As mentioned above, a lot of the smaller gifts are simply given away by the Royals to servants, while more valuable ones are sometimes sold to benefit their charities. Something else that emerged from the investigation into Prince Charles in 2003 was that many gifts are actually destroyed, particularly bedding and other low-value items that the Royal Family simply doesn't have a need for.
So, does the Royal Family use self storage? Probably not, given all the other things they're known to do with their gifts. But with the royal palaces getting ever fuller all the time, it may not be too long before they need to.