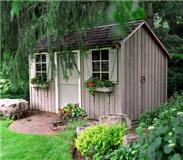 An Englishman's home is his… shed. For many it's probably the first port of call for robust storage needs, but each to his own style. Here is one account.
Storage and order
My garden shed is a place of orderliness and efficiency. Contrary to the popular view that a shed is a place where people throw in household items and expect them to stack themselves into neat piles, my shed is an essential and thoroughly useful storage facility.
The shed is placed at the end of the garden, under an overhanging group of trees which provide shade and some cover for the small, squat construction and which hardly hints at the storage capacity of such a small building.
Storage space craft
I keep my garden tools in there – forks, spades, buckets and trowels in profusion – but I also store all of our camping gear in there too. When I add in assorted car accessories, the paraphernalia for a perfect beach holiday, sundry sports gear and some garden umbrellas, you can see that my shed is working overtime to store all this stuff. It's only 8ft by 6ft with a single door and a wide window, but battening on the walls and deep under-window shelving mean that my shed has the storage depth of the wardrobe in The Lion, the Witch and the Wardrobe combined with the organisation of a NASA space craft.
Sometimes, just to check how well it all works, I walk into my shed (ducking to avoid the overhead storage gantry) with my eyes shut. Reaching out in the false darkness, I put my hand on a pair of secateurs which are neatly sheathed in a leather holster, and unhook them from the wall. When I open my eyes, I find the cat looking on in astonishment (and, I'm sure, admiration).
Storage satisfaction
As you may be able to tell, my garden shed has become a place of calmness and sanctuary. Everything is stored where it should be and the lines of specialist hooks, catches and shelves store all the gardening necessaries and reassuringly provide a place for everything. This is storage which is soothing and deeply satisfying.
If you are thinking a shed might be the storage solution for you, have a look at www.sheds.co.uk.
One Response to "On sheds for storage"