Free-standing shelving: how to maximise your space in self storage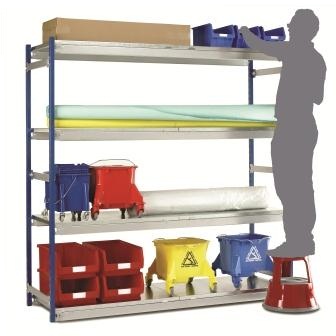 Steve Swallow, Managing Director of the storage equipment company behind 4theworkplace.co.uk, gives us the benefit of his 22 years of experience in the business.
If you are struggling for space in your self storage unit (or indeed your office, warehouse, or even home), and you have run out of wall space, then investigate the possibility of free-standing shelving.
To make sure you pick the right shelving system for your space problem you need to do a bit of thinking. Here are a few tips before you start:
1. Work out what you're looking to put on the shelving units. This will give you a good idea as to the depth of shelf you will need.
2. Now it's time to work out the height of the required shelving. From the floor, you need to work on a maximum shelf height of around the 2100mm mark. If you have the added advantage of a set of steps, then you can of course go higher. (Please bear in mind that however high you go, you will need to lift what you are putting on or taking off the shelf safely.)
3. Based upon the overall height of the shelving, you now need to work out the number of shelf levels you want, so work out how much space you need between the shelf levels, then divide the height of the shelving by the space you need and add one to give you the number of shelf levels including top and bottom.
4. You now have the height of the shelving, the depth of the shelving and the number of shelf levels you need. All that is left is what length of free space you have. Shelving bays can be anything from 900mm wide (knock together shelving) to 2400mm wide (longspan shelving). Longspan looks more industrial, but clip-together shelving for an office would look out of place in a self storage unit.
5. You also need to know how many runs of shelving you would like. Using an aisle width of around 900mm, you can work out how many runs you can get into a given space.
6. Finally, some other questions you'll also need to consider: Back cladding or open backs? Do you need dividers (handy if storing paper files)? Do you need filing cradles? What type of shelf do you want – mesh, chipboard or steel?
Call in the specialists
If you are really going to invest in shelving for your self storage unit in a big way, it may be easier for you to simply call in a specialist supplier of shelving and racking systems, who would be happy to….
determine what you want to store;
work out the heights, depths, widths and numbers of shelves to maximise the available storage space;
work out how many bays of shelving, and how many runs of shelving, you need to meet your requirements;
provide you with a computer-aided drawing (CAD), normally a few days after their visit, along with a detailed quotation presenting the price, specification, features and benefits of the proposed system.
When looking for a potential shelving and racking supplier you really need to make sure you are talking to an expert with a knowledge of not just his/her own products, but also their competitors products – this will enable them to see the best solution to the problem and specify the best product for the job.
TS ASSOCIATES (Storage Equipment) Limited is one such company – and I'm their MD, with over 22 years' experience of designing, supplying and installing shelving and racking systems throughout the UK. I also have also extensive knowledge of our competitors' products – good points and not so good points.
So if you have a shelving project that needs looking at, please feel free to contact me, Steve Swallow, if only to pick my brains on the problem you are facing.
One Response to "Free-standing shelving: how to maximise your space in self storage"