The Manchester Self Storage Company: a business that's on the move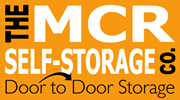 The Manchester Self Storage Company is a firm whose owners don't believe in letting the industry stand still. Demonstrating a commitment to innovation, last April they decided to set-up a new storage company offering mobile self storage, making them one of the few in Britain to offer this service.
Mobile self storage
Mobile self storage works in a very simple way. Rather than having a self storage facility which customers have to bring their belongings to, The Manchester Self Storage Company will deliver a mobile self storage pod to the customers' property and arrange a suitable time to come and collect it once the customers have put in everything they want to store.
The self storage pod is then taken by road to the Manchester Self Storage Company's storage facility, located in the Trafford Park area of the city (just five minutes away from the famous Theatre of Dreams).
There, the self storage unit is secured under lock and key for however long the customers want, and they are able to access it free of charge. For a fee, they can even arrange to have it returned to their property if they want to go through its contents, and then it will be sent back to the storage facility at a time of their choosing.
If the customers wish to get all their things back permanently, they just arrange a time for the storage pod to be re-delivered to their house and removed again once it's been emptied. The process could hardly be simpler.
Mobile self storage has several clear advantages for self storage customers. First and foremost, it removes the inconvenience of them having to deliver their belongings to a self storage facility, many of which are located a long way out of town. They can potentially also save money, as they don't have to hire a van or other large vehicle.
All in all, this makes mobile self storage an excellent option for people who need some self storage in their lives, but don't want some of the hassle that usually goes with it.
Award for promotional film
The Manchester Self Storage company has also received something of a Storage.co.uk seal of approval, as we gave them an award for Excellence in Promotional Films as part of our 2011-12 Excellence in Self Storage awards.
The winning video – tastefully put together, and rich in effective and informative content – can be viewed by following this link:
Founded by two business partners who have more than twelve years experience of working in the self storage sector between them, The Manchester Self Storage Company is clearly a firm which is seeking to innovate. Having been in business for less than a full year, its best days should still be ahead of it.
If it proves to be a big success, don't be surprised to see mobile self storage becoming more popular up and down the country.
One Response to "The Manchester Self Storage Company: a business that's on the move"