New recruits needed for ITV's "Storage Hoarders"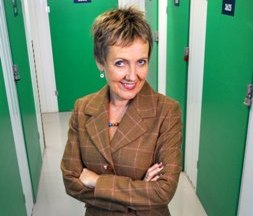 ITV's "Storage Hoarders", presented by Aggie MacKenzie (pictured above), is gearing up for a new series, and is looking for self-confessed hoarders to feature. The production company Twofour Broadcast has asked us to post this notice, calling for participants to volunteer:
ARE YOU A HOARDER?
ITV's "Storage Hoarders" is back and looking for people who can't throw away any belongings – is this you?
Do you find it hard to let go of possessions?  Is your partner, family or friend nagging you to sort out your stuff?
ITV's "Storage Hoarders" needs people who just can't throw anything away.
Is your garage piled high with boxes?
Is your shed full of stuff you haven't looked at for years?
Is there a spare room in your house that has become a dumping ground for old possessions?
Or do you pay for a storage unit of stuff you never use?
Now is your chance to get help!
We can help you declutter and turn some of your possessions into hard cash!
We're looking for individuals/couples/families who've just had enough of hoarding and are ready for a spring clean. If this sounds like you or someone you know – don't delay – contact us now!
Email via storageshow@twofour.co.uk or telephone 01752 727 675 (calls will be charged at your normal network rate).
DON'T DELAY – CONTACT US NOW!